CTV Morning Live: Mortgage Minute - September 9
Date Posted: September 10, 2014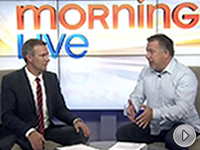 On this week's episode of the Mortgage Minute, Frank Napolitano discusses the difference between regular banks and monoline banks and how different their penalty will be should you break your mortgage early.

It is important to discuss all details of your mortgage with a professional. Contact one of our Mortgage Brokers for advice.

Click here for the full video.