Mortgage Minute: The Second Wave
Date Posted: October 15, 2020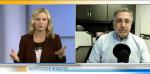 Going into the second wave of the Corona Virus Pandemic, and businesses once again shutting down, what may be the best options for your mortgage at this time?
Within the month of September, housing sales had never been better and housing prices went up tremendously. Going into October it is likely that housing prices and sales may remain on a similar path. With businesses once again shutting down people are beginning to lose jobs or have hours cut once again which has led to many people having to put their housing search on hold.
If you are coming up for renewal and renew your mortgage as is, then you should be okay as long as you have kept up with your payments. A tip may be, do not take a 5-year fixed mortgage right now as 5-year rates will be remaining low in the foreseeable future. An option rather than the 5-year fixed rate mortgage may be to sign for a 1-year fixed or a 5-year variable rate mortgage.
For more information on what you should be doing in this time, reach out to a Mortgage Broker today!
To view the Mortgage Minute with Frank Napolitano; click here
Contact your Mortgage Broker today for trusted advice