Impact of New Mortgage Stress Test Rules
Date Posted: June 3, 2021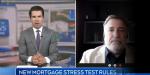 As of June 1st, the new qualifying rate for a mortgage has gone up in an attempt to cool the hot housing market.
If you had previously qualified for $500,000 at the previous rate of 4.79% you will now only qualify for $479,000 with the new rate of 5.25%.
The people who will be impacted the most by these changes will be the first-time home buyers. For first time homebuyers it is already difficult to buy a house in this current real estate market. This is now another layer to make it harder on those first-time home buyers to qualify for a mortgage.
When these new rules originally came out it was intended for those who were going to put a down payment of 20% or more and was quickly changed to impacting all of those applying for a mortgage.
For more information on the new mortgage stress test rules, watch Frank Napolitano on CTV News Ottawa here.
Reach out to a Mortgage Broker today!